Lot of times in my Breast Clinic at CK Birla Hospital, Gurgaon, I get patients who come and tell me that they are suffering from stage III breast cancer. When I ask them how do they know about that, the answer which I usually hear is that "my mammogram/ ultrasound report shows BIRADS III." Not only patients but I have also seen some doctors getting confused with the BIRADS reporting.
BIRADS (Breast Imaging Reporting and Data Systems) is a standardized way of reporting breast radiology reports.  This helps radiologists categorize patients from a score of 0-6 and it helps breast cancer surgeons in taking decisions based on this score. Having a uniform reporting system is useful because patients might get their radiology and breast disease treatment done at different places.
The score doesn't imply the stage of cancer and patients should be aware of this to avoid unnecessary anxiety after seeing the radiology report.
BIRADS 0 means an incomplete investigation – This usually occurs when a mammogram is done in a patient with a dense breast and it does not yield any meaningful information. In such a case, usually an ultrasound or MRI Breast is done
BIRADS 1 is a negative scan, which basically implies that there is no lesion in the breast and everything is normal. In these patients we advise them to follow up after 1 year
BIRADS 2 is suggestive of a benign lesion, which has essentially a 0% risk of cancer and these lumps don't require a biopsy. They can be followed up in a year's time. Simple cysts, most typical fibroadenomas fall under this category.
BIRADS 3 lesions are probably benign and these breast lesions/ lumps should be followed up every 6 months (short term follow-up). These lumps do not require a biopsy/ FNAC but if you have a family history of breast cancer, then the clinician might be inclined to do more tests/ biopsy at this stage rather than wait for 6 months.  Fibroadenomas, duct ectasias can fall under this category of lesions.
BIRADS 4 breast lumps/ lesions are suspicious lesions and they need to be biopsied to confirm the diagnosis. They are further sub-divided into 4a, 4b, 4c which implies low, medium and high risk for cancer. These patients should be counselled accordingly and a tru-cut/ core needle biopsy should be scheduled as soon as possible. Atypical fibroadenomas, suspicious microcalcifications, duct papillomas usually fall under this category of lesions
BIRADS 5 lesions are highly suggestive of malignancy and the risk of cancer in these breast lumps is more than 95%. All patients with these breast lumps should be subjected to the tru-cut biopsy, which is preferred over a FNAC (fine needle aspiration cytology)
BIARDS 6 lesions are when a radiological test is done after confirming the diagnosis of breast cancer.
The table below summarizes the BIRADS score and the action which needs to be taken in each category.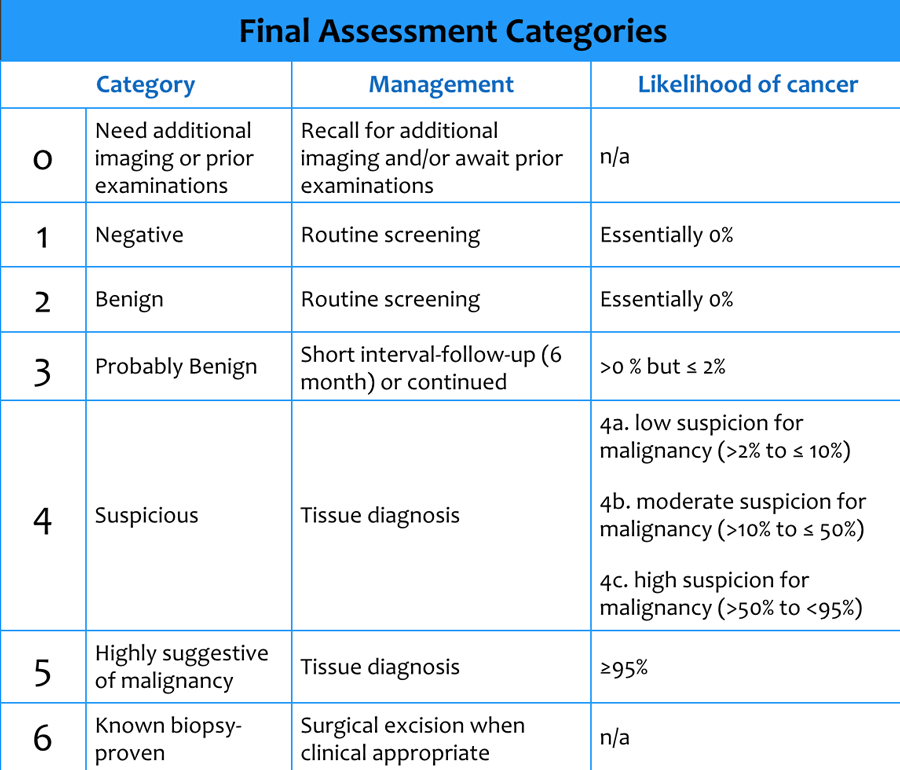 So the next time you receive your mammography / breast ultrasound report, don't be surprised to see the BIRADS score. Discuss the report with your radiologist and breast cancer surgeon and take action accordingly. Remember, that all breast lumps are not cancerous and all of them don't even require a biopsy/ FNAC test.
This information has been provided by
Principal Consultant,
CK Birla Hospital, Gurugram